The Jungle crow (Corvus macrorhynchos) is found throughout the Ryukyu Islands. They are abundant here and can be found all over Okinawa. Populations have increased due to the readily available food, left on the side of the road and in dumpsters. Its important to keep your trash enclosed in cages to prevent the crows from getting to it.
Scientific name: Corvus macrorhynchos
Local name: Jungle crow
Distribution:  Ryukyu Islands
Habitat:  Farms,cities ,forests and grasslands.
Diet:  Eats almost everything
Average size:  50cm  body length 
Color:  Black
The farmers in Onna village put up this deterant to keep the crows from coming back.
Crows can be viscous predators. They often harass other birds, showing off their strength.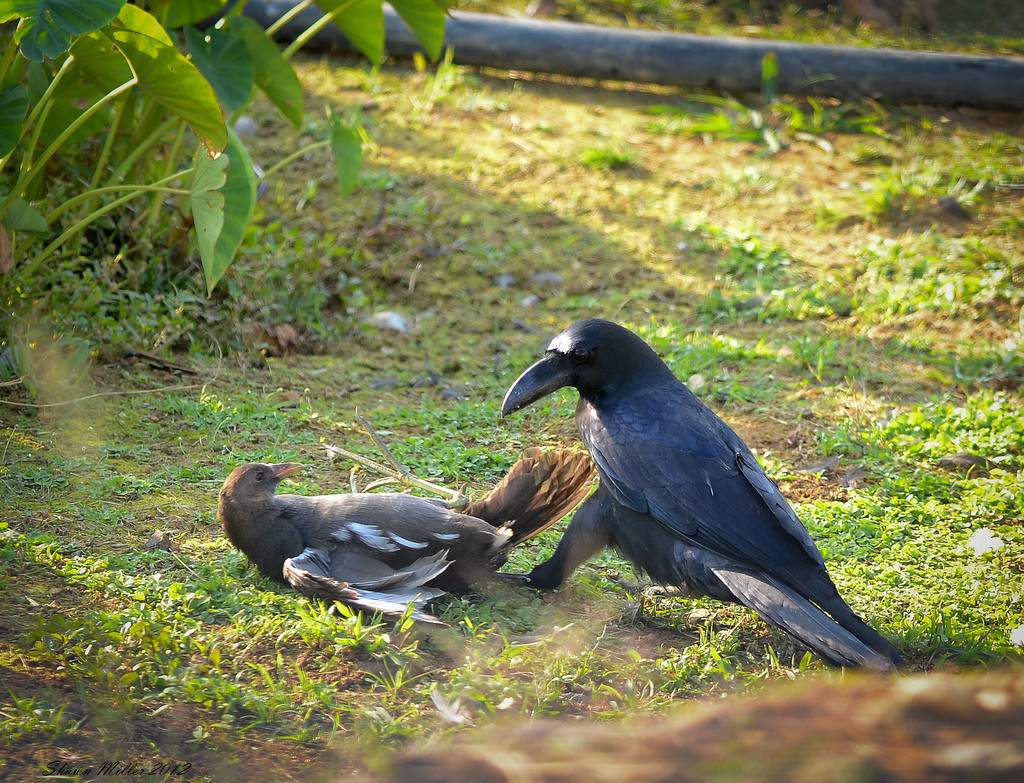 These intelligent birds work as a team to get what they want. I have personally seen them raid baby birds from the nest. I have seen them fly away with juvenile woodpeckers, rails and swallows.
To control the population of jungle crows in northern Okinawa, they use large traps to catch them in. One way in and no way out !
Possibly a strange growth that occurred from an injury (broken beak). Could this be one of the few crows that made a successful escape from a trap.
As much as we dislike the crow, they do have a purpose in the ecosystem. They clean the dead animals (road kill) off the road, keeping our environment clean from rotting carcasses. I often see them feeding on cats, snakes, lizards, birds and rats dead in the road.
They also feed on the large green caterpillars that destroy the farmers taro (Taanmu) crops in Kin village
Have a great day!